New Discovery on Korede Bello's IG profile makes fans wonder if he's no longer with Mavin Records [See Photo]
Godwin crooner – Korede Bello has recently been linked with an exit from the star-studded Mavins team. Like in the case of Iyanya, no official statement has been made concerning Korede Bello's new status but his Instagram bio carries information suggesting that Korede Bello is being managed by Caspertainment, with no sign of Mavin Records on his bio. This has caused fans to ask," has Korede Bello left Mavin Records?"
There has been speculation suggesting that Iyanya might have exited Mavin Records, but no official statement has been made to confirm the speculation. However, Iyanya has been less associated with the brand than one would expect.
See picture below.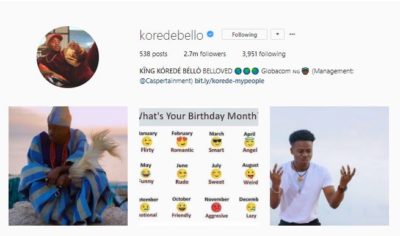 Well, to me,the way i'd see is that an artist could be managed by another agency while officially still remains with a record label. There are several artistes inculcating this method. And it's usually done in a professionally way. Korede Bello and Mavin Records may have talked this through officially.
or what do guys think of this?